General Details
Hanging Blanket
Since the ability to block sound is a function of the mass of the material, the hanging blanket material is always dense and heavy. The most common barrier material is a flexible mass-loaded vinyl with a density about 4.0 kg/m2.
The flexible mass load vinyl acoustic sound blankets combine quality, flexibility and softness to prevent noise from being transmitted from one area to another. They are available in non-enhanced and enhanced in a variety of weights and styles to suit many applications.
The most effective noise reduction products combine sound absorbing and noise insulation performance, providing maximum noise reduction in any application. Typical hanging blankets and composite applications are internal and external sound curtain, enclosed systems, etc. The blankets you hang on the wall can be configured with mass loaded vinyl septum, using a variety of quilted polyester absorbers and flexible noise barriers and are available as enclosure systems, or soundproof covers.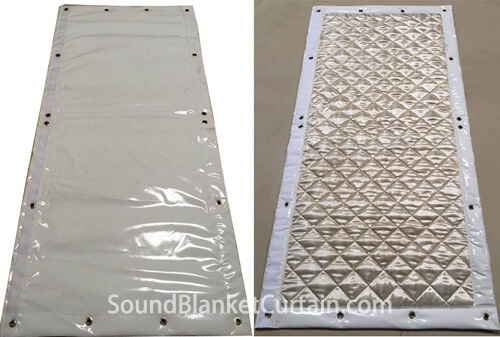 Hanging Blankets Application
Noise enclosures for industrial equipments
Acoustic curtains for construction sites
Minimize noise in large concerts, festivals and activities
The hanging blankets consist of an inner or outer vinyl coated cloth facing a 45mm quilted polyester absorber that is incorporated into a reinforced 4 kg/m2 mass loaded vinyl. The acoustic blankets are commonly used as noise reducing hanging curtains, which require resistance to abuse or excellent durability and maximum noise reduction. They are often used as temporary noise reduction hanging blanket for outdoor construction projects.
The surface side is available in a variety of material, including standard industrial grade PVC, normal interior fabrics, flame retardant PVC coated fiberglass for outdoor applications. The hanging blanket is usually made with grommets around each edge for mating hook and Velcro to maintain a good acoustic seal. Available colors are blue, green, gray, white, black, etc.