Acoustic Blankets 2050 x 1335 mm
General Details
Acoustic Blankets 2050 x 1335 mm
Acoustic blankets are made of PVC, mass loaded vinyl, sound absorption foam and acoustical transparent and fireproof fabric and other materials. In order to effectively reduce the sound transmission through the barrier, one mass material and one absorptive material should be used. Our acoustic treatment curtains are available in non-enforced version without the mass material and reinforced version with both.
Acoustical Blankets Application
Noise enclosures for industrial equipments
Acoustic engine blanket for industrial machines
Acoustic blanket for construction sites
Acoustic ceiling insulation blanket or absorption curtain
Minimize noise in large events, festivals and activities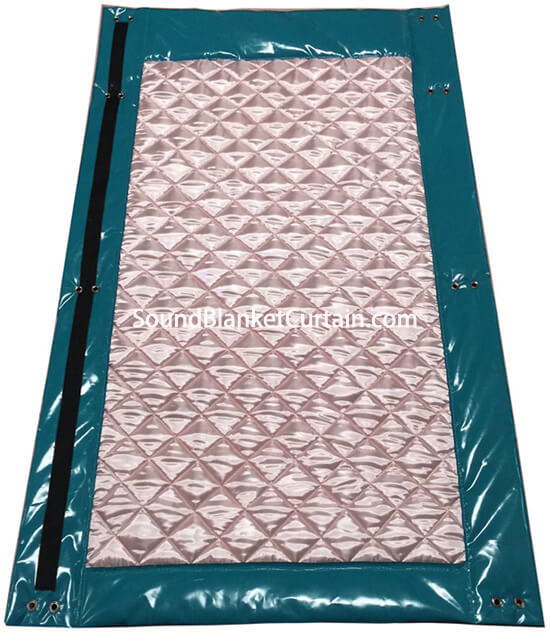 To use which version for your project is usually based on factors such as aesthetics, durability, maintenance, cost and the required STC or Rw. The visual characteristics of the industrial acoustic curtains associated with the environmental should be carefully considered. We recommend blue color by default as the visual impact of the driver can be considered in acoustic blankets design and construction. This can be enhanced by stitching a reflective strip on the acoustical curtains for reducing noise.
Acoustic blankets with are made with eyelets around each edge. Although it is usually attached to a temporary fence panel for surrounding and shielding construction work, acoustic soundproof curtains can be attached to anything.
Surveys show that most people who often pass by construction sites think that acoustic blankets hanging on iron fence in construction sites are effectively reducing the construction noise. The benefits of the acoustic sound blankets are far beyond contractor's expectation, as the noise blanket can not eliminate all of the construction noise. However, to use the acoustic blanket in construction sites indicates the contractor's effort to minimize the noise impact, which make people mentally feel better, together with the fact that acoustical blankets did reduce noise and improve the quality of life, thus the results of the surveys did make sense.