General Details
Construction Blanket
Construction site is a typical noisy site as noisy machines including chop saw, compacting machines, compressors industrial curtains, drilling rigs, excavator & peckers, general plant, generators, impact pile driver, hand held breaker, metal chop-off saw, petrol cut off saw, pressure washers, pumps, and road saws can cause loud noises which disturb construction workers, passersby, and nearby residents.
If you need to reduce construction site noise, construction blanket has been designed to provide the most efficient temporary acoustic wall, reducing construction noise up to 27 dB.
Scaffolding Cladding Construction Blanket
Manufactured in China, construction blanket consists of PVC, 45 mm thick sound absorbing foam and flame retardant cloth. Both surfaces are UV stable with a long lifespan even in the most challenging environment.
Construction blanket is a unique temporary noise blanket because it is particularly suitable for scaffolding. Accessories allow the blanket to be quickly and efficiently secured and disassembled without loose parts. The eyelets on construction blankets also allow a security line or padlock to be fitted to prevent unauthorized removal.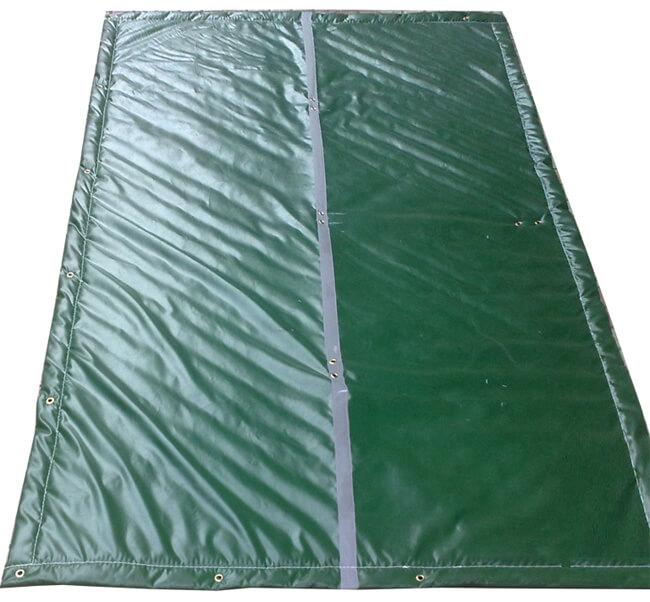 Noise Absorption Scaffolding Technical Data
Noise absorption: average 26dB (according to ISO 140-3)
Noise reduction: Class D meets ISO354 and ISO 11654 standards
Weight: about 5.4 kg / square meter
Wind tunnel test: withstand at least 137 km / h (38 m / s, Bo Ford 12) storm.
Size: Available at 1m and 2m wide, panel length from 1m to 4.8m.
Temporary construction blanket is usually used in:
Civil contract – to reduce the noise of street works and maintenance
Events – Minimize noise in large concerts, festivals and activities
Railway Maintenance Project – Reduces noise interference to residents adjacent to track works
Construction noise control – Reduce the noise generated at the construction site