General Details
Noise Absorbing Curtains
Noise absorbing curtains are a revolutionary environmental noise blanket system to cope with the growing noise pollution problem in the construction site. Both soundproof and attractive, our sound absorbing curtains are made of special materials in innovative design, balancing high performance and economy without affecting quality or functionality.
Technical Data of Noise Absorbing Curtains
Noise absorption: average 26dB (according to ISO 140-3)
Noise reduction: Class D meets ISO354 and ISO 11654 standards
Size: Available at 1m and 2m wide, panel length from 1m to 4.8m.
Weight: about 5.4 kg / square meter
Whether it is in residential, commercial or industrial environment, our wall blanket noise absorbing curtains can find its position for noise reduction.
Without products like insulated curtains, rail and highway construction and mantaince can cause temporary noise pollution to nearby residents; Live events allow participants enjoyed their day but noise complaint are always followed up; Industrial noise made by machines is loud but the workers can't escape from it.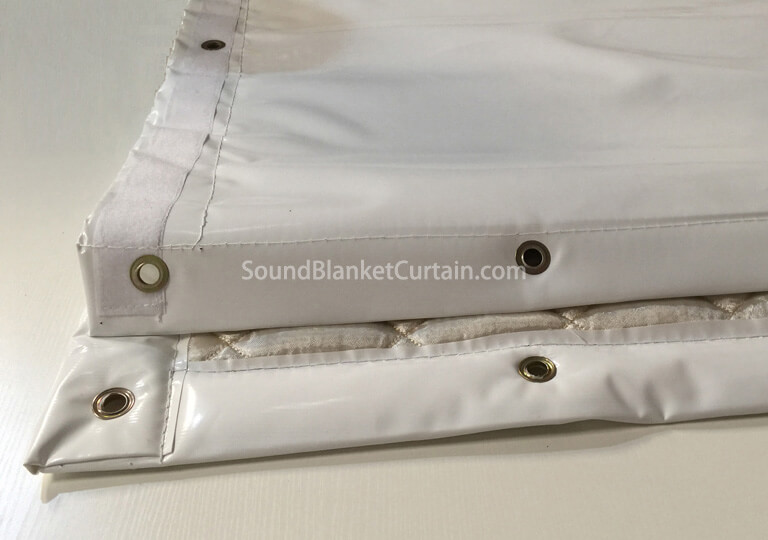 Whether your goal is to provide a safer working environment for employees, to comply with legislation or simply to restore peace and tranquility in your garden, sound absorbing blankets can be your friendly and professional solution.
Some customers hang the noise absorbing curtains onto the existing garden wall of the house. Good news if you like a quiet garden. Some customers even install absorbent blanket in dog kennel. This noise protection application keeps the dog and most of the noise inside, keeping a great facility open and not causing harm to nearby properties.
Correct sound management helps keep the community in close relationship, helps avoid conflicts with neighbors, and keeps everyone happy.
To know more about noise absorbing curtains, please contact us.